Your weekly frequent11y newsletter, brought to you by @ChrisBAshton:
This is a round-up of last year's "most talked about" accessibility news stories, brought to you by Equal Entry (who also have a newsletter you should subscribe to!).
I won't regurgitate the whole list, which is quite US-centric, but there are some interesting items that were actually completely new to me. It's amazing how these passed me by, even while I put a fair chunk of my life into writing these newsletters!
Spoiler alert: the top news story was Elon Musk's takeover of Twitter and the subsequent firing of Twitter's accessibility team.
---
Adrian Roselli looks at the homepage for a "popular site" and performs a manual review against the WCAG 2.1 A and AA standard, using "bookmarklets, assorted contrast checkers, dev tools, and assistive technology", including "screen reader pairings of Chrome/JAWS, NVDA/Firefox, and VoiceOver/Safari on desktop". He then runs the page through the following automated checkers:
axe DevTools v4.47.0 browser extension (using axe-core v4.6.2) for Chrome and Firefox
ARC Toolkit v5.4.2 browser extension for Chrome
WAVE Evaluation Tool v3.2.2.0 browser extension for Chrome and Firefox
Equal Access Accessibility Checker (EAAC) v3.1.42.9999 browser extension for Chrome and Firefox
NB, Adrian did not include Microsoft Accessibility Insights or Google Chrome Lighthouse because they use axe-core, the same engine as axe DevTools.
He compares the results in detail, but the result is clear:
In my manual review I found almost seven-and-a-half times (7½×) more issues than the tool with the next highest set of found issues across three times (3×) as many Success Criteria.
Adrian is clear to say that using automated checkers isn't a bad thing. Using them as a 'first pass' against your site can help flag some of the basics and allow you to then concentrate on more nuanced issues. But his concern is that "too many managers, bosses, stakeholders, and even testers, may do no more than run a free automated tool against a site or page and consider that sufficient".
For further reading, check out this GOV.UK blog post from 2017 that performed a similar experiment.
---
Sony has unveiled an adaptable PlayStation controller, dubbed "Project Leonardo". It is designed for gamers with limited motor control, who may not be able to hold the traditional controller.
The article does a great job at summarising what's unique about the controller:
The controller consists of a circular gamepad that was designed to lay flat on a table or wheelchair tray, which is equipped with eight interchangeable buttons plus a joystick that can be rotated around this central module.

The controller also comes with a kit of swappable components, allowing the shape, size and positioning of both the buttons and the joystick to be adapted to the personal needs and preferences of the user.

The controller's software is equally adaptable, allowing gamers to program multiple buttons with the same function, the same button with multiple functions or their preferred north orientation for the joystick.

These settings can be stored in distinct button control profiles, with users able to switch between up to three profiles per console.

It can also be used with a second Project Leonardo controller and one of the PS5's wireless DualSense controllers, with all three able to act together as a single device.

PlayStation is currently gathering feedback on the controller, meaning no release date or price has been set to date. The company's announcement comes nearly five years after Microsoft released the Adaptive Controller for its Xbox console.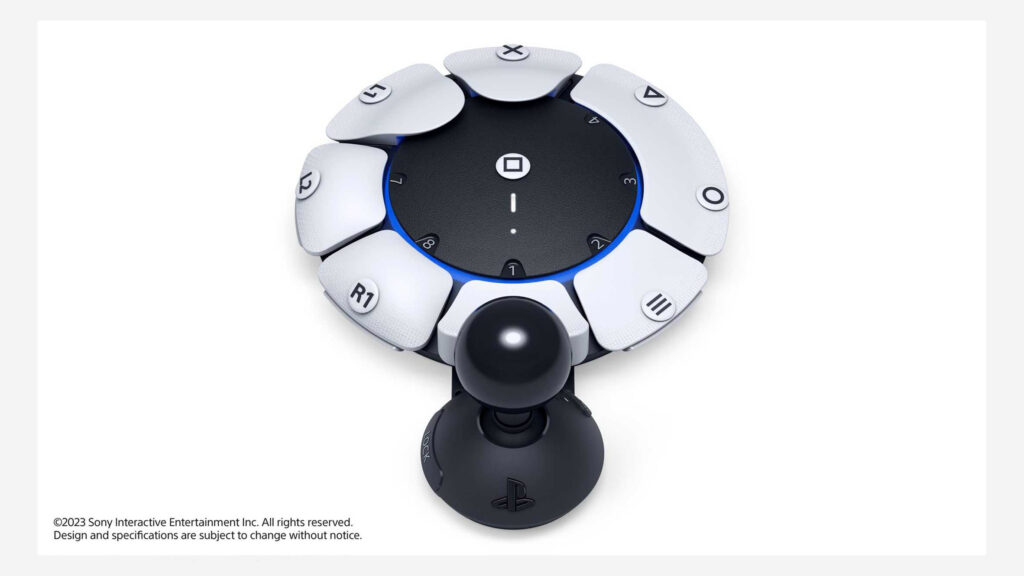 ---
Did you know that you can subscribe to dai11y, week11y, fortnight11y or month11y updates! Every newsletter gets the same content; it is your choice to have short, regular emails or longer, less frequent ones. Curated with ♥ by developer @ChrisBAshton.