In a hurry? Jump straight to the solution.
I love Left 4 Dead 2 (L4D2). I played it a lot in my uni days with my nerdy housemates, and we still try to meet up a few times a year to relive the good old times. Here's one of those meet-ups, when we hooked a laptop up to my 50″ TV: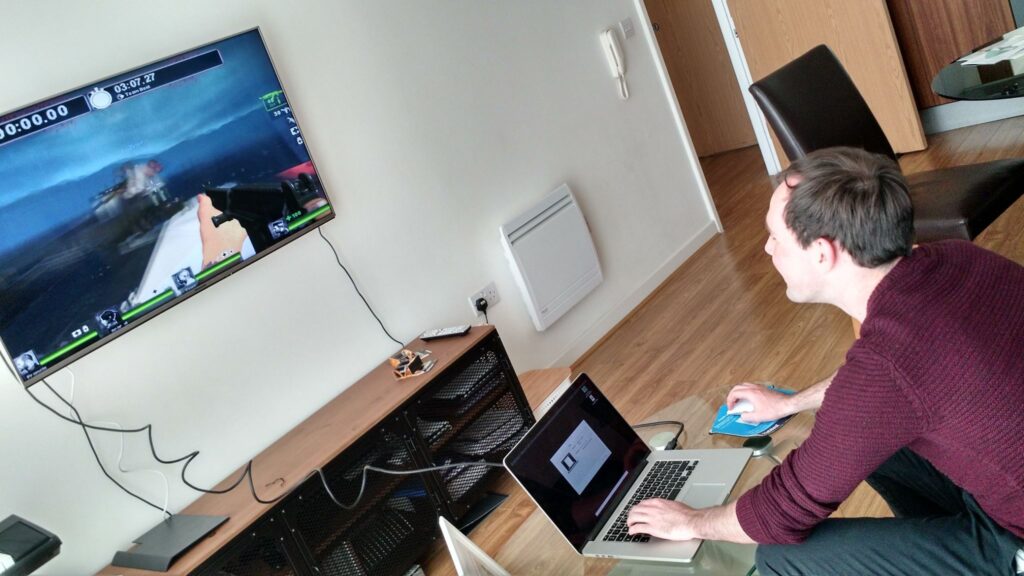 So when one day I upgraded my macOS to Catalina (10.15), I was gutted to find that I couldn't play Left 4 Dead 2 (L4D2) anymore:
It turned out that Apple had dropped support for 32 bit apps. I remember reading about that before upgrading, and made sure I backed up my old Word & Excel files as my ancient Office 2011 would no longer run, but I hadn't considered the impact it would have on my games.
I tried to install L4D2 via Wine, which I had previously used to play classic games like Railroad Tycoon 3. But I found that my Wine setup wasn't working anymore either, and didn't look like it was ever going to be.
The official suggestion from Steam was to partition your Mac and dual-boot multiple versions of macOS. PC Mag instead recommended buying Parallels Desktop, installing an older version from a recovery partition then installing Parallels Tools and transferring your 32 bit apps into the virtual system. The former requires a big hard drive and a lot of work, and the latter would mean a degradation in performance, so wouldn't be great for gaming – and I eventually spotted that it was also dependant on you having NOT upgraded to Catalina yet, which was too late for me!
I ended up giving up, and wasn't able to play any of these games for months.
---
The solution
Recently I had another go at finding a solution, and discovered PlayOnMac, which is based on Wine but with a nice usable UI. It claimed to offer Steam support and could run 32 bit applications, so looked perfect.
I downloaded the PlayOnMac .dmg and dragged the app into my Applications folder, but when I tried to run it I faced this error: "PlayOnMac.app can't be opened because Apple cannot check it for malicious software."
I had to open System Preferences -> Security & Privacy, and in the General tab there was an option to "Open anyway". macOS has not blocked me from opening this app ever since.
PlayOnMac supports a large number of applications, including Steam: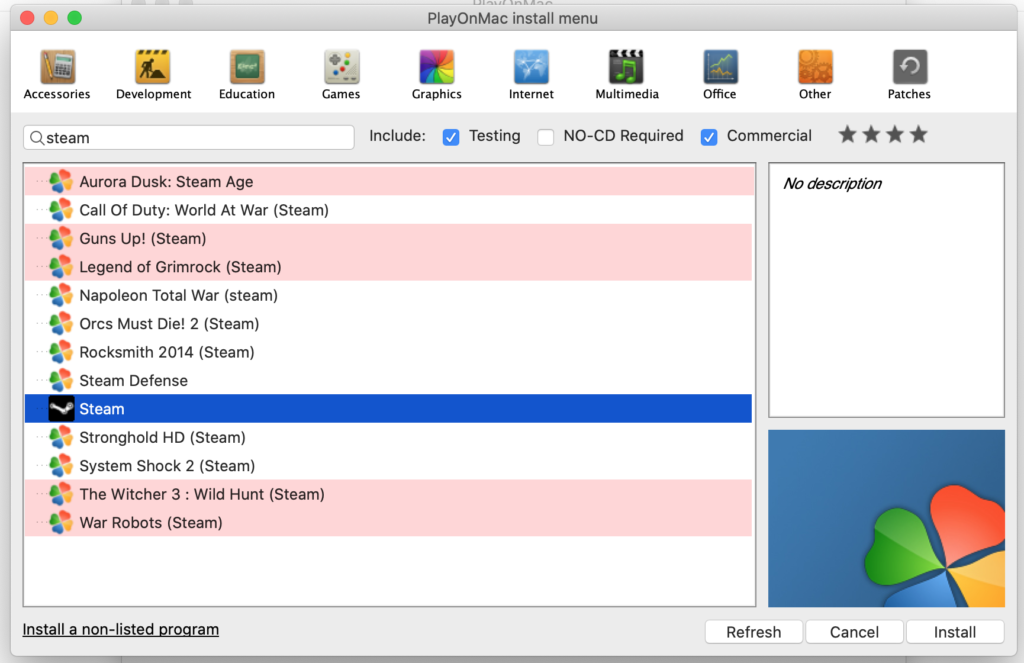 When I first attempted to install Steam, I did have a popup from within PlayOnMac which asked what my graphic memory was. I clicked the Apple logo on my Mac, clicked "About This Mac" and saw that I had "Graphics: Intel Iris Pro 1536 MB", so selected the "1536 MB" option, but the greyed out "Next" button remained greyed out for some reason. I eventually clicked "Cancel" – which was my only option – and was taken back to the screenshot above. I clicked "Install" again and this time I wasn't asked about my graphic card and it all seemed to install successfully.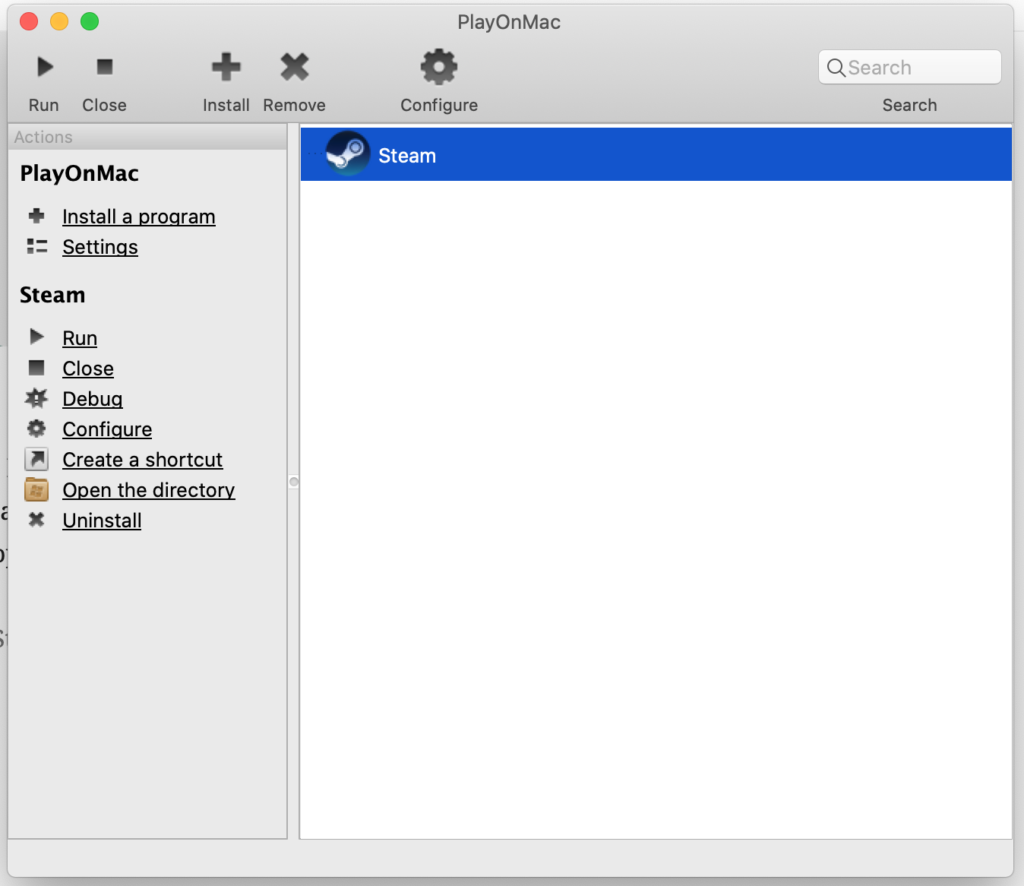 If you double-click the Steam icon, or click 'Run', it runs Steam. But there was an issue – the games library wouldn't load: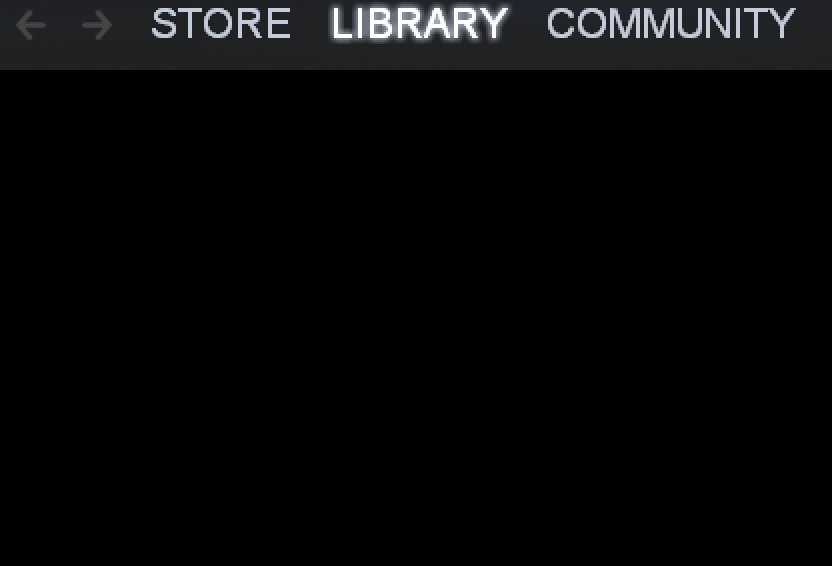 Eventually I found the answer on Reddit – you have to configure Steam to open the 'mini list' game launcher, which doesn't use a browser:
-no-browser +open steam://open/minigameslist
I clicked 'Configure' in the PlayOnMac UI and added these arguments to the 'Arguments' section.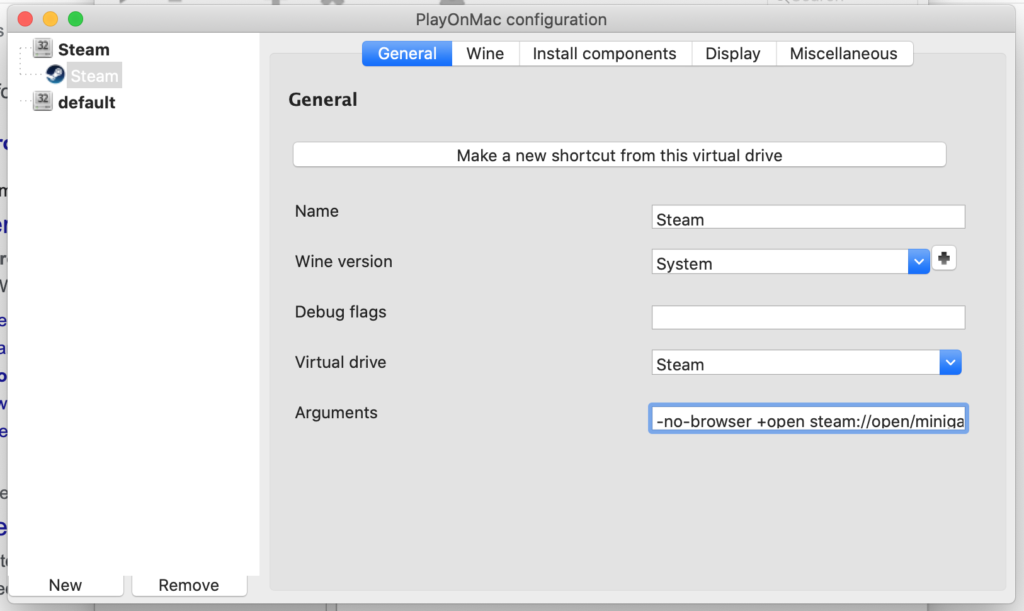 The next time I started Steam, I saw my games library!
I right-clicked Left 4 Dead 2 and clicked 'Install', which started the process. But then my Avast! Antivirus threw a wobbly, claiming to have spotted a WIN32 BogEnt [Susp] Virus, but apparently this is a common issue and thankfully the installation process wasn't affected.
I double-clicked the game to launch it, and the game opened full screen and seemed to work! I launched a quick single-player game and found the audio and IO quite laggy, but tweaked the graphical settings down slightly, which seemed to improve it a little.
I don't know how well it will hold up to prolonged gaming, or if there might be connection issues for local server gaming – I'll find out in a few months when me and my friends meet up for our semi-regular L4D sessions! But so far, it's looking fairly promising 🤞. I'll keep this post updated with any problems and solutions I come across. In the meantime, if you have any suggestions for gaming on Catalina, leave me a message in the comments!