Your fortnightly frequent11y newsletter, brought to you by @ChrisBAshton:
We need more inclusive web performance metrics
Scott Jehl writes about how popular user metrics such as Largest Contentful Paint are not necessarily useful to everyone. Users relying on screen readers may not be able to read the page until it becomes fully interactive, sometimes long after the DOM is complete. Scott has raised an issue to consider if Lighthouse could measure the time to the accessibility tree being created and/or the time to first accessibility API query, as suggested by Léonie Watson on Twitter.
Amazing haptic speaker lets visually impaired people read braille in midair
Researchers at Bayreuth University, Germany, are working on a speaker system that uses acoustic force and ultrasound to recreate traditional braille writing in midair. The system known as HaptiRead comes at a very poignant time as people are worried about touching surfaces during this coronavirus pandemic. The technology could be built into displays such as ATMs, and is powerful enough to be felt on the user's hand up to 70cm away. Read more in the academic paper.
Accessibility Dont's, Learn From Basic Mistakes in Web Design
Adam Laki shares five common a11y fails to avoid. 1: don't remove underlines on links. 2: don't remove outlines on focusable elements. 3: don't remove textarea resize functionality. 4: don't open links in new browser windows. 5: don't use fixed font-size. There are caveats to each tip, so the article is worth reading in full.
Killer Instinct: How To: Play The Game Blindfolded (video, or article if you'd prefer)
An interesting video by SightlessKombat, a blind gamer describing how they rose to the top tier of players by relying on their hearing. By turning up the volume of the 'heads up display', they could listen carefully to the pitch changing as each punch forms part of a 'combo', informing decisions that help land the most damage. SightlessKombat also talks of the demotivation of not being able to see his opponents' rankings, nor how many points he would gain from each fight.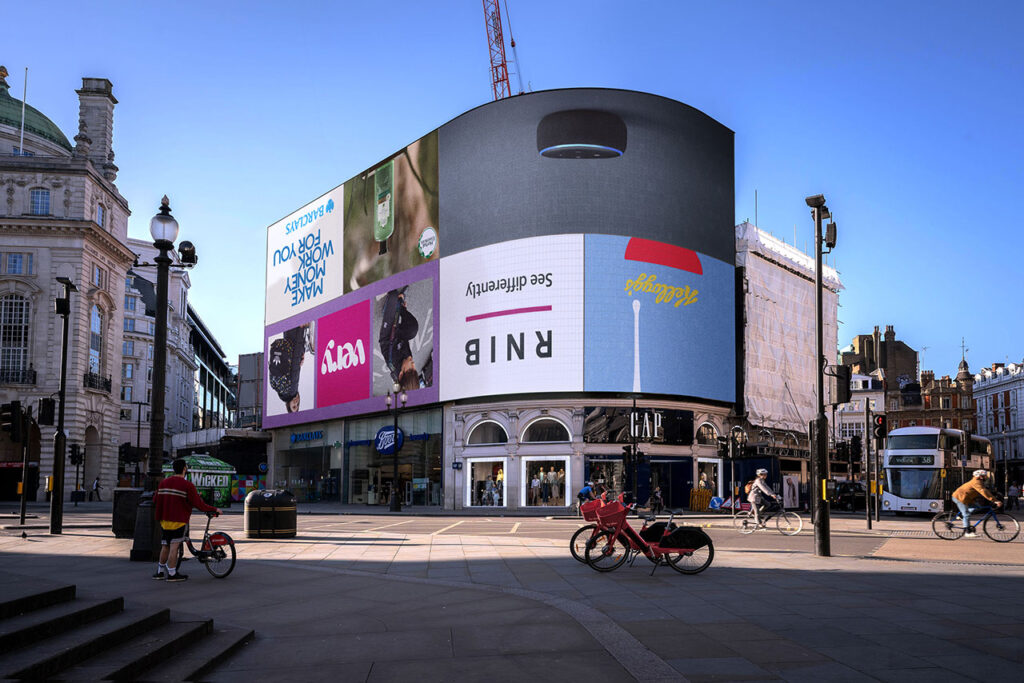 Piccadilly Lights turned upside down to raise awareness of challenges faced by blind people
For the week of the 6th July, London's infamous advertising billboard at Piccadilly Circus was turned upside down to raise awareness of the challenges raised by social distancing for the blind and partially sighted. RNIB said "the usual methods of navigating around public spaces rely on human contact, guidance and touch, all of which are no longer considered safe". Adverts appeared 180° rotated, alternating with text "The world has been turned upside down, especially for people with sight loss".
Disney+ Honored by the American Council of the Blind for Their Audio Description Tracks
Audio descriptions are added to films in order to recreate the visual experiences happening onscreen. Disney+ has received an Achievement Award in Audio Description from the American Council of the Blind (ACB) for their commitment to adding audio description tracks to original programming. Disney+ has already added audio descriptions to their modern catalogue including The Mandalorian, and is now working through older classics like Cinderella.
Missouri woman sews accessible masks with vinyl mouth 'window'
An article from May, but on a subject that still dominates. The introduction of mask wearing to reduce coronavirus spread has had a disproportionate impact on the deaf and hard of hearing community, and many of us rely on lip reading more than we know. Demand for Stacie Amschler's masks has gone as far as Utah, Maryland and Florida, particularly for doctors trying to reach their patients.
Planning, creating and publishing accessible social media campaigns
This guide from the Government Communication Service has great tips, such as testing the readability of your content (aiming for a 9-year old's reading age), avoiding use of bit.ly links, avoiding baking in text overlays into your video and ensuring voiceovers are at least 20db louder than background music. There are also platform-specific alt text advice for Twitter and LinkedIn.
Building the Woke Web: Web Accessibility, Inclusion & Social Justice
A List Apart article by Olu Niyiawosusi, drawing attention to the 40% of the world's population that still does not have access to the internet. More locally, only 37% of people living in social housing in the UK are online. This further divides the world, as those shopping in person tend to overpay compared to online, and those without digital skills are three times as likely to be in low-income bands. We must continue to offer non-online options for vital services, and attempt to reduce the barrier to becoming digital by building inclusive, accessible sites.
Online retail giant Zappos is now selling single shoes to help those with disabilities
American shoes and accessories seller Zappos have started allowing customers to purchase single shoes, or shoes in different sizes. The pilot program, which claims to be the first of its kind, allows amputees and people with physical disabilities to purchase exactly what they need.
Did you know that you can subscribe to dai11y, week11y, fortnight11y or month11y updates! Every newsletter gets the same content; it is your choice to have short, regular emails or longer, less frequent ones. Curated with ♥ by developer @ChrisBAshton.